About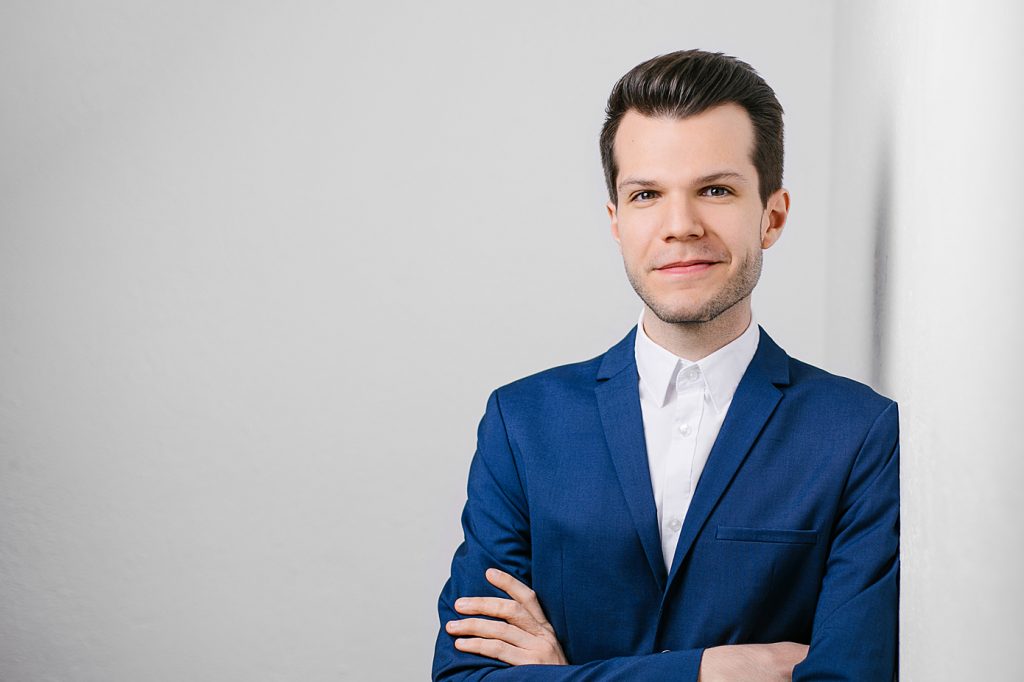 Hallo! — My name is Dimitrios Meletis; my pronouns are he/him. I'm an Austrian/Greek linguist working as a postdoc researcher at the University of Zurich. My main fields of expertise are grapholinguistics—the interdisciplinary study of writing—and (especially digital) literacy from sociolinguistic and metapragmatic perspectives.
click to listen to my name's German (

di'mi:tʀiɔs mɛ'lɛtɪs

) or
Greek pronunciation (

ði'mi:tɾɪs mɛ'lɛtɪs

)
If you are interested in (a lot) more prose detail, I invite you to read on. You can also find a download link to my current CV in the menu at the top of this page.
After I had been raised bilingually (German/Greek) for the first years of my life and had then attended a bilingual elementary school, I developed a fervent interest in all things language. It doesn't come as a surprise, thus, that in 2010, I started studying linguistics at the University of Graz (Austria). Although I instantly loved it, I wanted to complement the theoretical study of language(s) with delving deep into a new language myself, so I also took up studies in Russian, learning it from scratch. In 2013, I completed my two bachelor's studies with a psycholinguistic thesis on the comma's function in the reading process[1] and a cultural-analytical thesis on the Russian remake of the popular US sitcom How I Met Your Mother.[2] Given my strong wish to pursue an academic career, I continued with respective master's studies, obtaining MA degrees in linguistics (in 2014) with a thesis on psycholinguistic issues relevant in graphetics,[3] the (structuralist) study of the materiality of writing, and in Russian (in 2016) with a study of the semantics of the Russian genitive of negation.[4]
Following my master's thesis, the study of writing systems became my focus (and passion), so when I started my PhD studies in 2015, it was clear that I would choose a writing-related topic for my thesis. Combined with my interest for both theory and the 'bigger picture', this prompted my decision to analyze typologically diverse writing systems to carve out core concepts—such as the grapheme—in the (structural) analysis of writing and thereby sketch a descriptive grapholinguistics. I would then embed this descriptive theory in a functionalist framework that incorporates usage-based psycholinguistic and sociolinguistic perspectives. In October 2015, I started working as a predoc assistant at the linguistics department of the University of Graz and my research steadily gained pace: my thesis on graphetics was published as a monograph, and I was given the chance to write the overview article on graphetics as well as over thirty smaller entries on related lemmas for an encyclopedia on Grapholinguistics (as a part of the De Gruyter series Dictionaries of Linguistics and Communication Science).[5] In 2016, I attended my first Association for Written Language and Literacy (AWLL) workshop in Nijmegen, NL, where I got to present the concept of my PhD thesis, and I've been to each of the association's workshops since.[6] Later that year, I organized a (multinational) workshop on grapholinguistic theory and methodology at the 42nd Austrian Linguistics Conference.[7] I also received my first-ever invitation as a speaker—for a talk at a symposium dedicated to the registers of digital writing at the University of Hamburg in June 2017. Of course, I happily accepted and my talk dealt with metapragmatic discourses (more specifically: the online dislike) surrounding the infamous typeface Comic Sans.[8] In 2017, I was awarded a 26-month fellowship to complete my PhD by the Austrian Academy of Sciences. Other noteworthy highlights include three talks in 2017, 2019, and 2021 at the very open-minded and stimulating Linguistic Association of Canada and the United States (LACUS) conferences in Canada (or online, in the case of the 2021 conference), which were special to me given not only that significant grapholinguistic presentations had been given at LACUS in the past[9] but also because I won prizes for all three talks I gave there.[10] Also, I embraced the opportunity to present a sociolinguistic/metapragmatic project I had started working on (and which is the basis for my postdoctoral project, cf. below), focusing on the practice of so-called orthographic shaming (i.e., pejoratively correcting others' spelling mistakes publicly online, mostly in social media) as well as general attitudes on orthography[11] at the Sociolinguistics Symposium[12] in Auckland, NZ in 2018, at the International Pragmatics Conference in Hong Kong in 2019, and at the Prescriptivism Conference in Vigo, ES (online due to Covid-19) in 2021.
In 2019, I completed my PhD (which was supervised by Bernhard Hurch, University of Graz, and Christa Dürscheid, University of Zurich) and since April 2020, I hold a postdoc position at the University of Zurich (Department of German Studies). One of my main research interests continues to be the promotion and advancement of foundational grapholinguistic research and theory, and I have published (or submitted) work on basic but hitherto neglected concepts such as the grapheme,[13] allography,[14] and graphetics[15] (all open access) in the hope of shaping a more comparative grapholinguistics; articles on graphotactics and types of orthographic standardization are to follow. Also, in November 2020, a modified version of my dissertation was published as an open access monograph titled The Nature of Writing: A Theory of Grapholinguistics[16] in the new Grapholinguistics and Its Applications series[17] (published by Fluxus Éditions). The Faculty of Arts and Humanities of the University of Graz awarded me a prize for it. In late 2020, I was invited to write a personal essay on the field of grapholinguistics and my own 'journey' in it for the proceedings of the conference Grapholinguistics in the 21st Century (June 2020, online). Although this was an intimidating task, it was also an exciting one—the resulting essay 'On being a grapholinguist' can be downloaded below.[18] Then, in early 2021, I was asked to write an accessible article (in German) about my PhD thesis for a magazine published by the University of Graz, and I must say I enjoyed writing for a broader, non-scientific audience a lot.[19] My next venture into science-to-public was a talk (in German) about core findings of my PhD thesis at the Scientifica in Zurich in September 2021; it can be watched here. Finally, my interdisciplinary and international grapholinguistic workshop Writing: System, use, ideology was held as part of the 46th Austrian Linguistics Conference (hosted by the University of Vienna) in December 2021. The workshop description as well as the program and the abstracts can be downloaded here.[20]
The postdoc project I had originally planned and submitted for funding grew somewhat organically out of my previous metapragmatic/sociolinguistic research on discourses surrounding Comic Sans, orthographic shaming, and typographic mimicry and is located at the interface between grapholinguistics and sociolinguistics/pragmatics:[21] its main question was how the structure of different writing systems (such as Norwegian and Japanese) as well as specific sociolinguistic embeddings and conditions of literacy influence categories of normativity that users employ to evaluate not only writing but language in general. In a nutshell: whether there is an orthographic relativity to linguistic normativity. However, as of now, my plans have somewhat shifted from working on this specific topic towards focusing on a project that investigates a broader range of—mostly digital—literacy practices; it is tentatively titled Digital literacy, normativity, and self-prescriptivism.[22] Some of my next smaller projects within the broad scope of grapholinguistics will be articles on graphotactics, types of orthographic standardization, and grapholinguistic historiography. Also, the editors of the Oxford Handbook of Iconicity in Language have invited me to write a paper on iconicity in alphabetic writing systems, which I am very excited about. Another major current project worth mentioning is a book I wrote together with Christa Dürscheid; it is an overview of grapholinguistics titled Writing Systems and Their Use and was published (open access) in the series Trends in Linguistics: Studies and Monographs at De Gruyter; you can download it here. Also together with Christa Dürscheid, I was invited to present a keynote at LautSchriftSprache (LSS) 5, which will be held in Kristiansand (Norway) in October 2022. I was also invited by the editors of the new handbook series Handbooks of Germanic Linguistics to edit the volume on writing systems, which of course I gladly accepted! Martin Evertz-Rittich and Rebecca Treiman accepted my invitation to come on board as co-editors, so together we will be working on the Handbook of Germanic Writing Systems. Finally, I am also currently working on another edited volume (in German) on variation in literacy practices with Florian Busch.
Other, more personal facts about me include that I love to travel; in that vein, I am incredibly grateful that my positions at universities have allowed me to go to conferences and visit places that for financial reasons I would probably have never had the chance to visit.[23] With respect to everyday life, I live and work in my favorite cities: Vienna and Zurich.[24] I often look for outlets for my creativity (most would say I'm very creative). In fact, I had originally wanted to study screenwriting and directing at the Film Academy Vienna (at which Academy Award-winning director Michael Haneke has taught, among others); however, unfortunately, also for financial reasons, I could not move to Vienna at the time and decided to study linguistics in Graz instead (the rest is history, cf. above). I still dabble in screenwriting (or other forms of creative writing) now and then,[25] but most of the time, I am actively consuming films and TV series—as in engaging in criticism and discussion and observing ongoing discourses. My theoretical interest in the materiality of writing also translates to practice, so it comes as no surprise that I am fascinated by typography and calligraphy and engage in (amateur) design (of posters, booklets, and, obviously, powerpoint slides, cf. below). Also, ever since attending a bookbinding workshop, I will occasionally be found binding my own notebooks—which one could say is my personal take on meditation. Since 2019, I have been undertaking a program of advanced training to become a writing consultant (specialized in academic writing); I have already organized workshops and offered one-on-one consultations at the Writing Center of the University of Graz and must say: it feels great to put the theoretical knowledge of (and of course the practical experience with) academic writing to use by means of supporting people in the writing process. What more? I am sharing my life with my partner, who is a speech and language therapist (a good fit for a linguist—that was a coincidence, though), and two Russian blue cats named Mila and Cookie[26] (I am a cat fan through and through).[27] Finally, if you ever meet me at a conference, chances are I will be wearing a shirt with small animal print.[28]
Research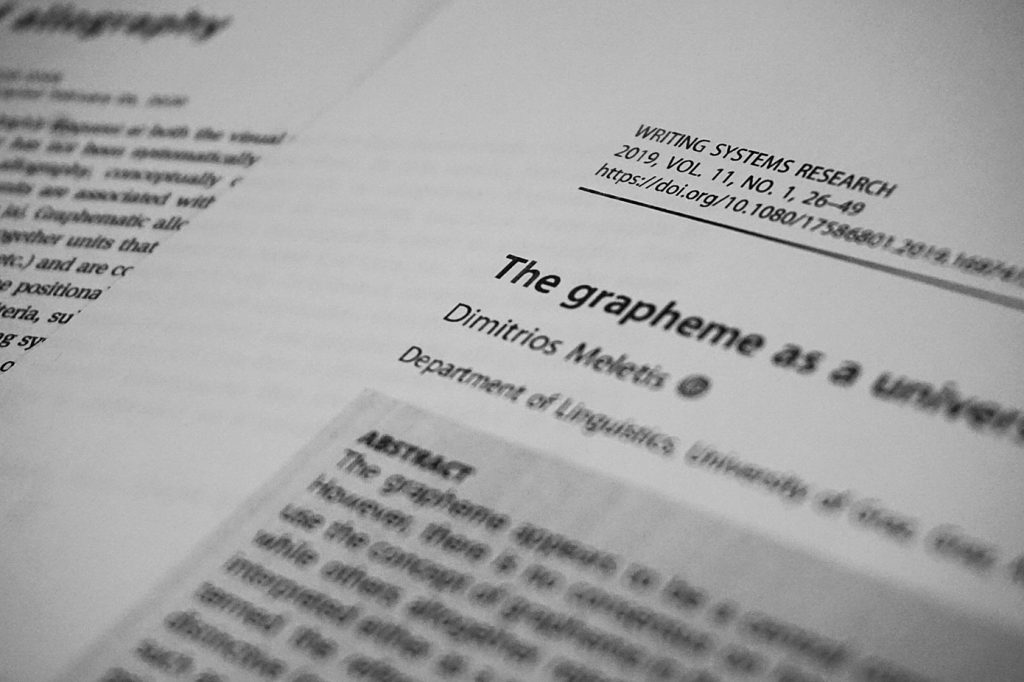 My main research interest is the interdisciplinary study of aspects of writing and literacy—which I term grapholinguistics. Within that field, in my pre-doc research, I focused on theory and comparison/typology. Accordingly, in my dissertation, one core goal was to define the concepts central in describing writing—such as grapheme and allography—in broad terms, aiming to make them applicable to all types of writing systems. These, in turn, can be more straightforwardly compared. The second and paramount goal, then, was to elevate the hitherto descriptive theory to an explanatory level, focusing not on how writing systems are structured but why they have developed as they have. This question can, in my opinion, only be answered in a functionalist framework and with the help of extralinguistic external evidence. The interaction between humans and writing is crucial: humans have invented writing, and their continuous use shapes it. In this vein, I have described four 'fits' that can be used to describe writing systems and explain the genesis of their structures: the systematic fit (how systematic are the relationships between the units of a writing system?), the linguistic fit (how well does a writing system fit its language?), the processing fit (how well does a writing system fit human processing needs—both physiological and cognitive?), and the sociocultural fit (how well does a writing system suit our sociocommunicative needs and a given sociocultural setting?). Together, comparative grapholinguistic concepts such as grapheme, allography, graphotactics, etc. and these four fits combine to constitute a first rough sketch of an explanatory grapholinguistic theory.
In the following, you will find an exhaustive list of my publications including—when possible—a download link to a full text. Below that is a list of my talks and poster presentations which you can download by clicking on the thumbnails (all in PDF format).
Publications
Monographs
Edited volumes
Articles (peer-reviewed)
accepted (invited). Phonographic writing systems. In Olga C. M. Fischer, Pamela Perniss & Kimi Akita (eds.), Handbook of iconicity in language. Oxford: Oxford University Press.
accepted. There had already been a structural graphemics. Revisiting and contextualizing a grapholinguistic dispute. LACUS Forum 47.
in press. Universality and diversity in writing systems. LACUS Forum 46.
2021. (With Terry Joyce.) Alternative criteria for writing system typology. Cross-linguistic observations from the German and Japanese writing systems. Zeitschrift für Sprachwissenschaft 40.3 (Special Issue): 257–277. DOI: 10.1515/zfs-2021-2030. [Publisher] [PDF]
2021. 'Is your font racist?' Metapragmatic online discourses on the use of typographic mimicry and its appropriateness. Social Semiotics Online First. DOI: 10.1080/10350330.2021.1989296. [Publisher] [PDF]
2020. Reintroducing graphetics: The study of the materiality of writing. Scripta 11: 91–131.
2020. Types of allography. Open Linguistics 6: 249–266. DOI: 10.1515/opli-2020-0006. [Publisher] [PDF]
2019. The grapheme as a universal basic unit of writing. Writing Systems Research 11.1: 26–49. DOI: 10.1080/17586801.2019.1697412. [Publisher] [PDF]
2018. What is natural in writing? Prolegomena to a Natural Grapholinguistics. Written Language & Literacy 21.1: 52–88. DOI: 10.1075/wll.00010.mel. [Publisher] [Preprint PDF]
Articles
2022. (invited). Typographische Mimikry. In Ursula Rautenberg & Anja Voeste (eds.), Typographie: Disziplinäre Zugänge – Fachliche Konzeptionierungen – Forschungsfragen und Projekte, 68–79. Stuttgart: Hiersemann.
2021. On being a grapholinguist. In Yannis Haralambous (ed.), Grapholinguistics in the 21st Century. June 17–19, 2020. Proceedings, Part I (= Grapholinguistics and Its Applications; 4), 47–62. Brest: Fluxus Éditions. DOI: 10.36824/2020-graf-mele. [Publisher] [PDF]
2020. Warum hassen alle Comic Sans? Metapragmatische Onlinediskurse zu einer typographischen Hassliebe. In Jannis Androutsopoulos/Florian Busch (eds.), Register des Graphischen: Variation, Praktiken, Reflexion, 253–284. Boston, Berlin: De Gruyter. DOI: 10.1515/9783110673241-010. [Publisher] [PDF]
2019. (With Christa Dürscheid.) Emojis: A grapholinguistic approach. In Yannis Haralambous (ed.), Graphemics in the 21st Century. Brest, June 13–15, 2018. Proceedings (= Grapholinguistics and Its Applications; 1), 167–183. Brest: Fluxus Éditions. DOI: 10.36824/2018-graf-duer. [Publisher] [PDF]
2017. Der Genitiv der Negation im Russischen: Ein konzises semantisches Profil. In Anna Weigl et al. (eds.), Junge Slavistik im Dialog VI. Beiträge zur XI. Slavistischen Studentenkonferenz (= Studien zur Slavistik; 40), 195–206. Hamburg: Dr. Kovač. [PDF]
Encyclopedia entries
2015-2017. Single articles: Apex [PDF] · Balken [PDF] · Bogen [PDF] · Bogenverbindung [PDF] · Buchstabenform [PDF] · Buchstabenmorphologie [PDF] · Duktus [PDF] · Elementarform [PDF] · graphisches Kontinuum [PDF] · Graphonomie [PDF] · Grundform [PDF] · Kineto-Graphetik [PDF] · Kurvilinearität [PDF] · kurzer Buchstabe [PDF] · langer Buchstabe [PDF] · Linearität [PDF] · Neigungswinkel [PDF] · Phano-Graphetik [PDF] · Rektangularisierung [PDF] · Rektilinearität [PDF] · Schleife [PDF] · schrägovaler Stil [PDF] · Schreibraum [PDF] · Serife [PDF] · Signographie [PDF] · Skriptgraphetik [PDF] · Strich [PDF] · Symmetrisierung [PDF] · Vertex [PDF] · Vertikalitätsprinzip [PDF] · Zeichenform [PDF]. In Martin Neef/Said Sahel/Rüdiger Weingarten (eds.): Schriftlinguistik/Grapholinguistics (= Wörterbücher zur Sprach- und Kommunikationswissenschaft; 5). Boston, Berlin: De Gruyter.
2015. Overview article: Graphetik. In Martin Neef/Said Sahel/Rüdiger Weingarten (eds.): Schriftlinguistik/Grapholinguistics (= Wörterbücher zur Sprach- und Kommunikationswissenschaft; 5). Boston, Berlin: De Gruyter. [PDF]
Reviews
2022. A paradigm shift in the study of early Greek writing – Review of Natalia Elvira Astoreca. 2021. Early Greek Alphabetic Writing. A Linguistic Approach (= Contexts of and Relations between Early Writing Systems; 5). The Classical Review. DOI: 10.1017/S0009840X22000725. [Publisher]
2021. Review of Wolfgang Steinig/Karl Heinz Ramers. 2020. Orthografie (= LinguS: Linguistik und Schule; 7). Zeitschrift für Rezensionen zur germanistischen Sprachwissenschaft 13.1–2: 52–57. DOI: 10.1515/zrs-2021-2067. [Publisher] [PDF]
2018. Review of Nadine Schimmel-Fijalkowytsch. 2018. Diskurse zur Normierung und Reform der deutschen Rechtschreibung. Eine Analyse von Diskursen zur Rechtschreibreform unter soziolinguistischer und textlinguistischer Perspektive (= Studien zur deutschen Sprache; 75). LINGUIST List 29.4445. [Publisher] [PDF]
2017. Review of Ulrike Domahs/Beatrice Primus (Hg). 2016. Handbuch Laut, Gebärde, Buchstabe (= Handbücher Sprachwissen; 2). Zeitschrift für Rezensionen zur germanistischen Sprachwissenschaft 9.1–2: 109–115. DOI: 10.1515/zrs-2017-0019. [Publisher] [PDF]
2016. Review of Tilo Reißig. 2015. Typographie und Grammatik. Untersuchung zum Verhältnis von Syntax und Raum. Zeitschrift für Rezensionen zur germanistischen Sprachwissenschaft 8.1–2: 147–152. DOI: 10.1515/zrs-2016-0027. [Publisher] [PDF]
Conference activity
Organized workshops
Talks
Posters
Teaching and supervising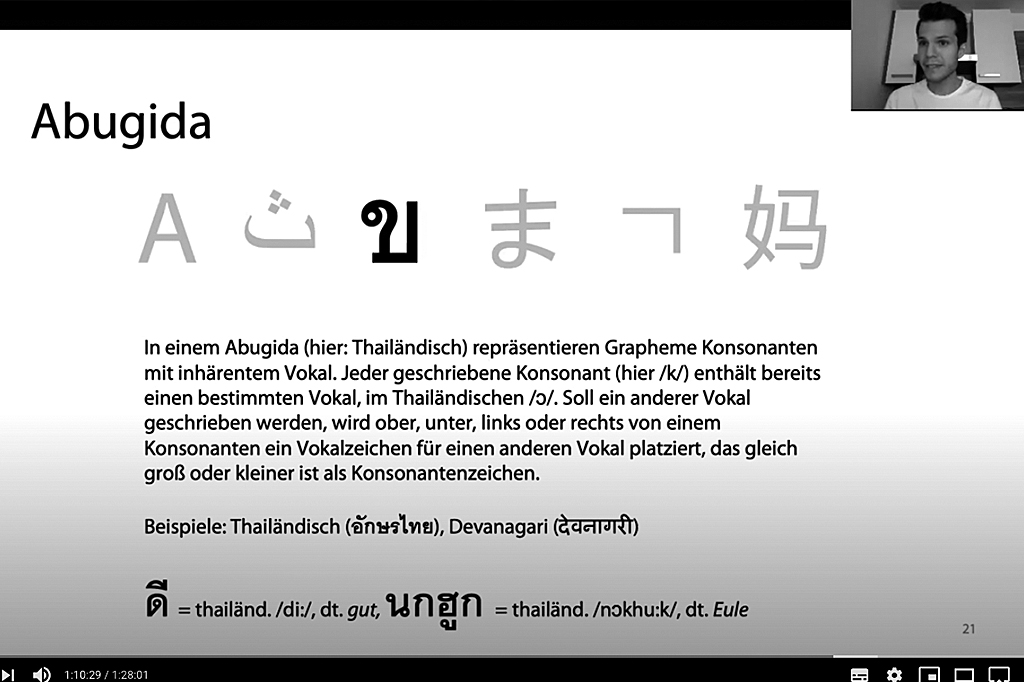 Contact
If you have questions, comments, or would like to collaborate, please feel free to e-mail me at